While other charters might take you out for deep sea fishing in Sarasota, Southgate, Bird Key, or Sarasota County, FL on a rickety old sailboat or some other cramped craft, Charter Boat Shark promises an exceptional experience aboard either of our twin charter boats. We have 2 identical 41-foot vessels—Shark and Shark2!
Our Unique Craft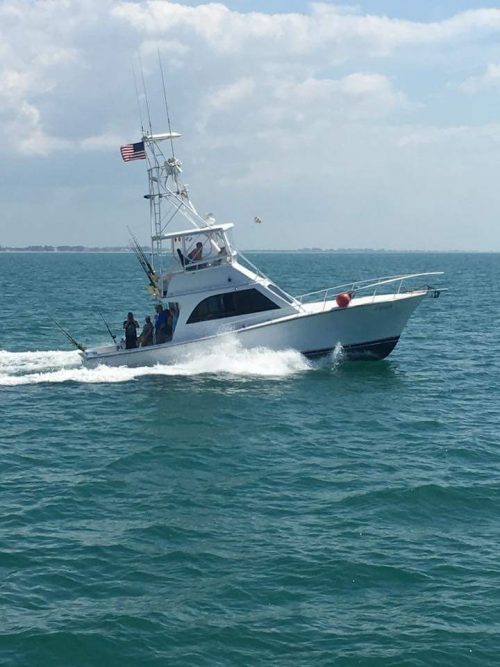 Both of our boats are twin, custom-built FITZ 41-foot sport fisherman vessels, each with a 14-foot beam. Both are powered by a pair of 450hp Cummings diesel engines, offering a top cruising speed of 35 knots. When we throw down the throttle these boats really fly! That means we're able to get you out to a fishing spot quicker, so you can spend more time casting your line and less time waiting to get there.
Onboard, our boats feature Loran GPS systems, synchronized with autopilot. To guarantee the best catch, both boats also have multiple color fish-finding recorders, including a commercial Furuno machine. Ship-to-shore radio and a 64-mile radar with GPS overlay make sure you're safe at all times.
Our boats offer an air-conditioned cabin for your comfort—especially on longer day trips. There's also a well-maintained bathroom and plenty of space to relax between dropping your line in the water.
Fishing Accommodations
It's not every day you get to head out on a deep-sea fishing tour in Sarasota, FL! We make sure our boats are accommodating to your needs, so you can make the most of your adventure without worrying about the little details.
The Shark and Shark2 are both equipped with 16-rod holders in the tower and 15 in the gunnels. This gives us plenty of rod storage so you can transition from one type of fishing to another much faster and easier. Plus, it makes sure you're always equipped to reel in your prize!
Fighting chairs are secured in the cockpit and two huge live well tanks (35 gal and 65 gal) are on board, for storing large amounts of live bait for extended offshore trips. Our 30-foot tuna tower can even be used to spot schools of fish!
Weigh Anchor on Our Boats
For a fishing expedition, you're not soon to forget, choose Charter Boat Shark. We promise the best possible experience aboard our boats! Plus, you'll get the benefit of having licensed, experienced captains at the helm at all times. Contact us today at 941-365-2161 to schedule your ocean fishing tour or learn more about the fish you'll be able to catch!